Armed police receive life saving equipment
Armed police receive life saving equipment
Thursday, 03 June, 2010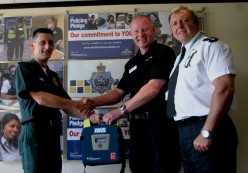 Steve Catley presenting firearms instructor Liam Clancy with the AED alongside Inspector Peter Knight
Kempston based firearms officers have welcomed a potential life saver to their armoury at a special presentation held at the Bedfordshire Police HQ last Friday.

Community partnership manager, Steve Catley, met up with firearms instructor Liam Clancy and Inspector Peter Knight to present the team with an Automated External Defibrillator (AED) on behalf of the trust. Steve said: "I was approached by the firearms department to see if it was possible to obtain an additional AED to boost their immediate aid capability whilst performing close protection and VIP cover in the region. Their firearms team are all trained in the use of an AED and this additional one will be a valuable asset to their team."

Firearms inspector, Peter Knight said: "The sharing of such vital equipment between emergency services ensures we continue to provide the best service to the public. Working in partnership with the East of England Ambulance Service to save life is highest on my teams priorities and I am grateful for their continuing support"