Police Authority Announces Appointment of New Deputy Chief Constable
Police Authority Announces Appointment of New Deputy Chief Constable
Friday, 21 May, 2010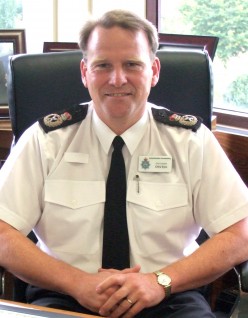 Nottinghamshire Police Authority has announced, after a robust recruitment process, the appointment of Chris Eyre as the next Deputy Chief Constable of Nottinghamshire Police.

Mr Eyre is currently Temporary Chief Constable for Leicestershire Constabulary, a position he has held since September 2009. Prior to that he was Deputy Chief Constable, a role he had held since January 2009 and the Assistant Chief Constable (Crime) since March 2005.

Welcoming him to Nottinghamshire, Chair of the Police Authority Cllr John Clarke congratulated him on his appointment saying: "Chris brings a wealth of experience to the role which will be invaluable in the testing times ahead. We were seeking someone with proven skills to work alongside the Chief Constable to address the many challenges the Force faces and deliver sustainable long-term performance improvements. We believe that we have found the right individual.

"On behalf of the whole Police Authority, I would like to congratulate him on this appointment. It was a particularly tough recruitment process so we are pleased to have appointed someone who met our very demanding criteria for this pivotal position in Nottinghamshire's new senior officer team."

After his appointment had been announced, Chris Eyre said: "I am delighted to be joining Nottinghamshire Police Service and I see this role as a great challenge.

"My aim is to restore the status of Nottinghamshire Police to that of some years ago when it was seen as one the top performing forces in the country."

Chief Constable, Julia Hodson, said: "I am delighted to welcome Chris Eyre as the new Deputy Chief Constable. He brings extensive knowledge of policing and strong leadership qualities to the role and I look forward to working with him to further improve our performance. He will be a great asset to Nottinghamshire Police."