West Midlands Police Help For Heroes
West Midlands Police Help For Heroes
Monday, 19 April, 2010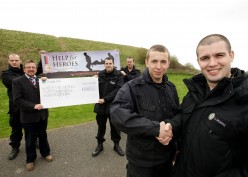 Sapper Jamie Dakin (Royal Engineers), left, receives the cheque for £2,600 on behalf of Help for Heroes from West Midlands Police Sergeant Gareth Morris. Rear: PC Chris Abbott, David Panting (Help for Heroes representative), PC Nathan Green and Sgt
WEST Midlands Police officers have presented a cheque for £2,600 to Help for Heroes.

The money was received by injured soldier Jamie Dakin and Help for Heroes West Midlands County Co-ordinator David Panting, on behalf of the charity which supports those who have been wounded in Britain's current conflicts.

Jamie, 23, who has been a member of the Corps of Royal Engineers for four years, was injured during an explosives search in Afghanistan last year. A device went off and left him with shrapnel wounds to the face, neck, arm and hand.

He said: "Initially I was treated in an army field hospital then I was flown back to Selly Oak where I received first-class treatment before being released."

He has seen, first hand, some of the good work Help for Heroes carries out on behalf of wounded members of the armed services.

The presentation was made at the West Midlands Police public order site in Cosford at the end of a four-day strategic training event - Exercise Redquest - run in conjunction with the Corps of Royal Engineers.

Exercise Redquest involved around 70 members of police staff and 25 army personnel and was an opportunity for the two groups to share equipment knowledge and familiarise themselves with each other's search procedures, in preparation for October's Conservative Party Conference at the ICC in Birmingham. The two organisations will be working together to provide security support for the event.

The money was raised by a group of seven officers from West Midlands Police's Operational Support Unit through a sponsored climb to the 14,000ft peak of Mount Toubkal in the Atlas Mountains of Morocco. Sergeant Gareth Morris, who led the team, said: "It was quite a challenging experience for us and we wanted it to have a worthwhile end result. What better charity to benefit than Help for Heroes."