Police cadets win trip to Geneva
Police cadets win trip to Geneva
Wednesday, 24 March, 2010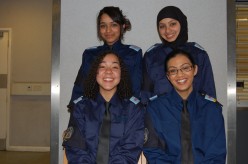 Three volunteer police cadets from Hackney and one from Redbridge are on their way to Geneva this summer, after successfully winning a place on the Metropolitan Police Volunteer Cadet United Nations Project.

The cadets will represent the Metropolitan Police at an international conference hosted by the International Labour Organisation, aimed at combating child labour across the globe. At the conference they will work in partnership with the Kids Task Force, an organisation focused on preventing children coming to harm and establishing a national standard for safety education in schools.

Hackney police cadets Maariya Ahmed, Rosie Ward and Umme Rohimah, and Redbridge cadet Areeba Nareem, all aged 18, had to give a five minute presentation and answer a series of questions about the elimination of child labour at a selection day at ESB.

Hackney's Volunteer Police Cadet manager, Jill Dimartino, said, "I am absolutely delighted for the girls, who all worked extremely hard on their application forms and presentations in order to get selected. This is a very prestigious event and I am confident that they will make a valuable contribution to the conference and make both Hackney and the Metropolitan Police proud."

Hackney's Volunteer Police Cadet co-ordinator, Tim Beaumont, said,
"Areeba is an extremely focused young lady. She has put a lot of work into the selection process and is now working hard on the presentation she will be delivering to the UN conference. She is very excited about actually 'making a difference'. I am confident that she will make a valuable contribution."