Extra Noses To Help Keep Olympics Disruption Free
Extra Noses To Help Keep Olympics Disruption Free
Friday, 19 March, 2010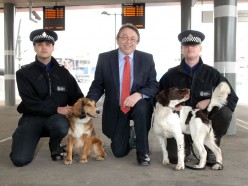 Transport Minister Paul Clark and Olympics dogs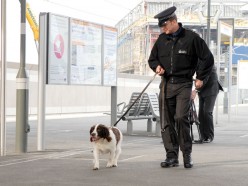 Transport Minister Paul Clark yesterday (Thursday, 18 March) met some of British Transport Police's (BTP) newly recruited explosives search dog teams, whose task will be to help keep the 2012 Olympics disruption free.

The new dogs - some of which are rescue dogs - and their handlers join BTP's existing dog teams who make up British Transport Police's Explosives Search Dogs Section (ESD), the largest unit of its kind in any police force in Britain. The whole ESD Section will be involved in the Olympic policing operation.

Sponsored by the Department for Transport as part of BTP's preparations for the Olympics, the new dogs and handlers have completed their eight weeks Initial training and are currently being independently licensed.

"These new dogs and their handling team will help ensure the safety of the thousands of visitors we are expecting at London 2012," said Paul Clark.

"Seeing the dogs and their handlers in action I was impressed at how unobtrusively they go about their work. This is vital, as stations are expected to be very busy and we must provide security with minimal disruption to the travelling public. We expect everyone to have a safe and enjoyable Olympic Games but of course we have to take security precautions."

Assistant Chief Constable Steve Thomas leads BTP's Olympics Programme Team as well as being National Coordinator for Cross-Modal Transport Security covering rail, road, maritime and air transport.

"ESD dogs and their handlers are a vital part of our operational planning for 2012," he said. "With a train arriving into the Olympic Park every 13.5 seconds at peak time, and 80% of spectators using rail transport, any disruption will have a serious impact. We will be using these resources proactively to ensure that the network remains secure and to help keep security related incidents to an absolute minimum."

A patrol strategy has been put in place and the dogs and their handlers are patrolling all the currently accessible Olympic zone stations and depots, making themselves familiar with the terrain, intervention points and more.

Although they have completed initial training, there is no substitute for experience.

"It's rather like a police officer's probationary period - it takes time for them to gain experience so they can deliver optimum value," says Inspector Debby Woods, who heads up BTP's Explosives Search Dogs Section.

"The Olympics are going to be a real challenge, but by 2012, all our handlers will have at least two years service, so we will have a very experienced team."

Olympic Security Minister Lord West said: "These new sniffer dogs are a welcome addition to the London 2012 security team. The dogs are just one part of the biggest security operation in the UK since the second world war. They will play an important role in ensuring that London 2012 is remembered for its sporting achievements."