Police Awards Ceremony Recognises Bravery & Long Service
Police Awards Ceremony Recognises Bravery & Long Service
Thursday, 18 March, 2010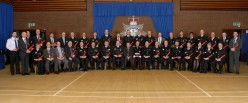 Long Service awards and Chief Constable Commendations were presented to police officers, police staff and specials during a ceremony held at Suffolk Police headquarters on Wednesday 17th March.

The Lord-Lieutenant of Suffolk Lord Tollemache attended the ceremony to present the medals for long service, with the majority being for 22 years service, while Suffolk Police Chief Constable Simon Ash presented the Chief Constable Commendations.

There were 39 medals awarded for long service, with 30 going to police officers, two to police staff and seven to specials. Six Chief Constable commendations were also awarded during the ceremony in recognition of particularly professional or outstanding work. Examples of some of the awards presented are listed below:

Long Service Awards:

Fourteen of the 30 police officers who received the medals for long service are Police Constables. Other recipients range from Sergeants to Temporary Detective Inspector Andrew Footer who is currently working in the Offender Management Unit. Inspectors Neil Reid of Operation Training, Bob Cracknell of the Force Operations Room and Chris Downs have also all served with the police force for over 22 years.

Police staff members James Garwood of Transport Services and Rick Saggers an ICT Specialist received their medals at the ceremony alongside Special Constable Paul Riches and Special Inspector Garry Smith who have completed 19 years and 29 years respectively.

Chief Constable Commendations:

There were six Chief Constable Commendations presented to officers during the ceremony, with the recipients being two Police Constables, one Sergeant, one PCSO, one Special Constable and one Police Staff member.

PCSO Christopher Strahm based at Haverhill was presented with a commendation for his efforts in saving the life of a 19-year-old female. Along with two Police Officer colleagues (who are unfortunately unable to attend the ceremony to receive their own commendations) the trio held the weight of the woman after she had stepped off a footbridge located 30 feet above a road. They had to hold the woman for around half an hour, while remaining calm, compassionate and reassuring, until she was eventually pulled to safety.

PC Carl Brandwood of Haverhill received his commendation in recognition of his bravery when disarming a male following a domestic incident. The male opened his door to PC Brandwood holding a long barreled rifle and pointed it at the officer who stood just three metres away. PC Brandwood was able to grab the rifle from the male and made the situation safe enough for other officers to arrest the male.

Other Commendations were awarded to Sgt Adrian Powell of the Air Support Unit and Rex Clarke, the Contracts Manager, who showed outstanding professionalism and commitment during the procurement of the new force helicopter.