New launches and the latest technology at BAPCO 2010
New launches and the latest technology at BAPCO 2010
Friday, 29 January, 2010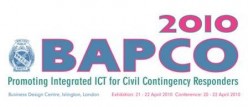 With over 100 exhibitors showcasing their latest products and services at the BAPCO 2010 Exhibition from 20th - 22nd April 2010 at the Business Design Centre, Islington, London, there will be an array of new launches and technology for public safety officers and civil contingency professionals to see, compare and receive expert advice on, direct from the suppliers. Entry to the exhibition is free.

New exhibitors for 2010 include Secricom Project, Skymasts Antennas, Cleric Computer Services,Damovo UK Limited, AECOM Design, ITT Defence Ltd, Polyphaser, Valentia Technologies,
Talking Headsets, Wireless and many more.

For the full exhibitor list visit:
www.bapco.co.uk

BAPCO Exhibitor News:
Here are just some of the highlights you can expect to see from exhibitors:

Genesis EMEA Operations (UK) will be giving BAPCO attendees a sneak preview of an exciting new development - additional parameters are now being stored in the GenWatch3® GenSZAI database from data acquired from Motorola TETRA systems. Genesis is the only solution to process and store this data immediately when the Transmit Inhibit (TXI) function is activated or deactivated.

The information stored includes the Radio ISSI, date and time and both the talkgroup and current site affiliation. Data is available as and when the end-user requires, from an immediate report or from a longer term archive which stores all the data in its original form so detailed reports can be run or re-run at any time in the future with the same degree of integrity. Visit Genesis on stand 200 for more information.

Cadcorp will be officially launching their Workload Modeller for the UK fire Services market. Cadcorp's Workload Modeller provides transparent and flexible methods to model current resource workload against historic incident databases. Fire services are able to monitor levels of efficiency whilst also modelling 'what if' situations, which is of significant benefit to emergency planning activities while providing a greater understanding of existing resilience. Find out more on stand 422.

Visit Microbus on stand B31 to find out more about their new strategic alliance with Carnation Designs to offer the public safety market a one-stop-shop souce for in-vehicle auxillary electronics control. Combining Microbus' rugged vehicle-based PC technology with the flexibility of Carnation Designs' genisys electronic management system, creates a complete package to meet the advanced electronics requirements of the latest emergency service vehicles.

New exhibitor Abiom Communications Systems, who have recently been appointed as the sole UK and Ireland distributor of the Phonak Communications range, will be displaying the latest in the Phonak range at BAPCO 2010.The Phonak product range includes in-the-ear hearing protection products and specialist covert wireless earpieces, including their patented Profilo transductive wireless covert earpiece and in-car systems.

This range is ideally suited for use by police, emergency services and industry (especially airport workers and railway maintenance teams). Abiom will also display the Phonak Profile zero interference covert earpieces, which could be of great benefit to undercover officers on trains and in cars.

With so much to see, discuss and learn at this year's BAPCO Exhibition from 21st-22nd April, visitors can register FREE today to ensure they are up to date on the products, systems and services that will be shaping their role in the future. For more information and to register for a FREE visitor ticket go to www.bapco.co.uk.

For those who wish to attend the BAPCO conference running alongside the exhibition from 20-22 April, the full conference programme will be available from February 2010 at www.bapco.co.uk when delegate registration for the conference will also be open.