Board engages with Fermanagh community on policing
Board engages with Fermanagh community on policing
Wednesday, 20 January, 2010
Chairman Barry Gilligan speaking at the Public Engagement meeting in Enniskillen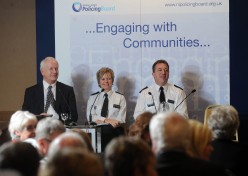 Sitting on the panel at the meeting (l-r) Vice-Chair of the Board Brian Rea , Deputy Chief Constable Judith Gillespie, and Chief Constable Matt Baggott


Chairman of the Northern Ireland Policing Board (the Board), Barry Gilligan expressed his thanks to those who attended the Board's fourth Public Engagement Meeting held last night in Enniskillen.

Speaking about the event Mr Gilligan said:

"This meeting was about listening to the community and providing a forum where Board Members, the Chief Constable and senior PSNI officers could engage with and hear first hand what people want from their police service and how they think it can be improved. I would like to assure people that all the issues raised at the meeting such as resources and police numbers, the police estate, PSNI use of stop and search powers, fear of crime amongst older people and ATM thefts will be brought back to the Board for further consideration.

Policing is an essential public service and the Board is committed to ensuring that people across all communities have access to the best possible service. On an ongoing basis, local people also have the opportunity to raise issues through their local District Policing Partnerships (DPPs) which continue to provide an important platform for local police accountability."

Brian Rea, Vice Chair of the Community Engagement Committee added:

"This fourth meeting of its kind was part of our continuing commitment to facilitate the public in their right to have a real say in how policing is delivered to their communities. The meeting was an attempt to both encourage and promote the debate around policing and community safety. It is a complex issue, and crucially important, particularly for those in the community who feel vulnerable and find it difficult to engage with the police such as migrant workers. We are in a new era in the history of policing in Northern Ireland and there is a real opportunity to build on the progress to date and secure the trust and confidence of communities."

He continued: "The Community Engagement Committee is determined to facilitate the public in their right to have a real say in how policing is delivered to their communities and this work will continue."

Chief Constable Matt Baggott commented on the meeting saying:

"Last night's meeting in Enniskillen was a very positive engagement which provided PSNI with an opportunity to reinforce our commitment to ensuring that we have the right people, in the right places with the right skills to deliver a personal, protective, professional and effective police service which matches the expectations of local people"

"It was a very encouraging meeting, there was real engagement in the room and it was very evident that those attending , and in particular the DPP members , had a real passion and desire to see local policing working effectively despite the very evident and consistent security threat."