Queens Park tree planting
Queens Park tree planting
Thursday, 17 December, 2009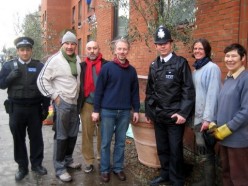 PCSO Johal and Sergeant Day with members of the Queens Park Residents Association


Queens Park Residents Association have been working with Queens Park Safer Neighbourhoods Team to try and improve the appearance of the area around the police station in Salusbury Road.

In Autumn 2008 Robert Budwig of the Queen's Park Area Residents' Association designed a scheme for olive trees in large terracotta pots outside the police station to improve the appearance of that part of Salusbury Road by introducing some greenery. This project was funded and will be maintained by the Residents Association.

On Friday 11th December Queens Park Residents Association attended Kilburn police station to plant the trees.

Sergeant Graeme Day from Queens Park Safer Neighbourhoods Team said: The Queen Park Residents Association have done a great job in making the area look good. I would like to thank them for all their hard work. I hope residents and visitors to the area enjoy the new improve surroundings.

Elaine Henderson Chairman of the Queens Park Residents Association said: "The volunteers spent three hours of hard work unloading the pots, positioning them, filling them with a suitable soil mix and planting the 6 olive trees. The difference to the street scene was enormous and the trees looked great against the red brick wall of the Police Station. One of the best parts of the job was the range of positive comments from passers-by, some of whom thought it was something specially for Christmas! I hope everyone will enjoy the planters for many years, and that maybe a trend had been started for more planting along Salusbury Road."

Robert Budwig from the Queens Park Residents Association said: "This is the best Christma ever, both for me and the whole community."