Police Pods Arrive at Workington Police Station
Police Pods Arrive at Workington Police Station
Friday, 11 December, 2009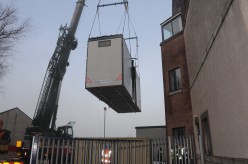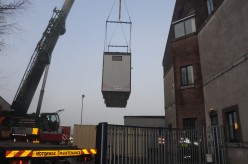 Eight temporary Police cells are to open in Workington early next week following the installation of custody pods at the Area Headquarters yesterday (Thursday, 10 December).

The original custody suite was badly damaged when water swept through the ground floor of the building on the night of the floods of 19 November. Since then local Police have been using cells at Whitehaven and Carlisle to hold arrestees. Yesterday marked a pivotal stage in getting policing in the area back to normal when six large pods were craned into position in the car park behind the Hall Brow. The pods allow for eight temporary Police cells, two interview rooms, two multi-purpose to take breath tests and fingerprints, a charge desk and a portacabin acting as a reception area for general enquiries.

Chief Inspector Mairi Stamper is heading up the recovery process. She said: "The installation of these temporary cells is yet another step on our road to recovery and signals that we are very much back to business as usual. We moved back into Workington Station last week and some staff are working out of other areas while the ground floor is repaired. I am very impressed by the level of professionalism and dedication that all our officers and staff have shown throughout the challenges of the last few weeks. They have worked tirelessly to keep local neighourhoods safe, and people should be confident that we will continue to provide a the best service possible."