St Albans police officers praised
St Albans police officers praised
Friday, 04 December, 2009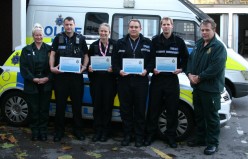 A team of community police officers who attended a young boy who suddenly collapsed whilst at home recently have been commended by the attending ambulance crew.

At a suprise presentation, duty operations manager Tabatha Saunders and emergency medical technician Warren Downie made a special visit to their St Albans station, to pass on their sincere thanks for their help and professionalism shown when they attended the emergency on November 13.

Police constables Rhys Tom, Tony Scott and Mick Gough arrived alongside Tabatha and Warren to a private address in St Albans. The initial call stated a young boy was choking and on their arrival the boy was found in cardiac arrest. Both the ambulance and police crews rapidly treated and stabilised the boy who was taken to the QE11 hospital in Welwyn Garden City. After a long period of resuscitation, he sadly died in the emergency department.

Warren said: "This was a very sad incident for everyone to deal with and Tabatha and I were most impressed in the way our colleagues from Borehamwood and the police officers helped each other out. They were very calm and compassionate and their assistance was very much appreciated."

Simon King, interim assistant general manager for South West Hertfordshire, who attended the presentation said: "The police officers who were involved in this tragic incident went above and beyond to help our crews and the boy's family in any way they could. They thoroughly deserve to be recognised for their actions and it was a pleasure to pass on their certificates on behalf of the trust."

During the presentation, Inspector Karen Potton was also given a certificate of appreciation for her management of the incident.