Bobby Honoured
Bobby Honoured
Thursday, 03 December, 2009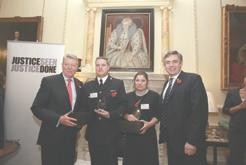 PC Tudor Roberts


A beat bobby who has helped transform a Birmingham community once blighted by drugs, crime and prostitution has been honoured for his years of dedication.

PC Tudor Roberts collected the award for going "above and beyond the call of duty" in his work to improve the lives of families on his Waterworks estate in Ladywood. The 42-year-old has been hailed by his community as "the face of what the police service should be today" as he worked tirelessly to change things. But the volunteers who put him forward for the award say scores of police officers at Ladywood and Rose Road were almost as deserving of the recognition.

Chris Hoare, who founded the Birmingham South West group 12 years ago with the estate ravaged by crime, said: "All the young policemen and woman have been fantastic. They have rolled up their sleeves and backed everything we've done and as the families have seen that,
they've joined in because they can see we're all in it together."

PC Roberts' backing for the group's work over the past decade has seen crime plummet on the estate. In the last decade families, partner groups and the police have: Closed nearly 40 crack houses, dramatically reduced prostitution, created four gardens and an orchard,
built ornate railings around the estate and opened a booming youth club, which attracts an average of 70 youngsters.

Crime levels have dropped dramatically and the partnership has been so successful officials from France, Mexico and Scotland have been to visit. PC Roberts was officially recognised by Prime Minister Gordon Brown who handed him a Community Crimefighters' Award.