Pioneering armed response dog handlers
Pioneering armed response dog handlers
Tuesday, 03 November, 2009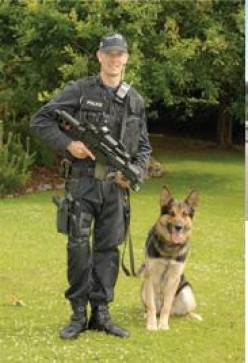 Armed response dog handler


Having dogs trained to support firearms officers at incidents is not a new thing but Avon and Somerset Police are pioneering a new way of operating both firearms and dogs together using a single officer trained in both sections.

Other forces have had general purpose dog handlers that have firearms training but no other force has armed response officers that routinely are also handlers of dogs that are trained to do both general purpose work and firearms support. Avon and Somerset Police have introduced this step to assist interoperability between operational units.

There are significant benefits of having these double skilled officers with twice the resources available to them. They can be available to attend scenes where firearms or dogs are required. This means these resources are more available to districts across the force with officers that are more local and can get there faster. Having an already trained firearms dog with a firearms officer means that at firearms incidents there is no waiting for the dog resource to be available, the job can get going immediately with faster resolution. This gives the force a more effective use of resources and more flexibility.

Within Avon and Somerset, five general purpose dogs also perform an additional specialist role as "Firearms Support Dogs." These dogs routinely support both pre-planned and spontaneous firearms incidents in the Force area. FSD dogs and their handlers are trained to work closely with armed officers in a tactical firearms situation.

However, in 2008, Avon and Somerset ran a unique pilot scheme whereby a Firearms Support Handler successfully completed his Firearms Course and has now been performing a dual AFO/Dog handler role in an Armed response Vehicle (ARV) for the last 12 months. This officer forms part of a double crewed ARV whilst also carrying his dog, which is able to perform both GP and FSD roles.

Recently, the total number of officers performing this dual role has risen to three. It is envisaged that these two additional officers' General Purpose Dogs (GP) will be developed Into FSDs in the near future. The ARV officers have the dogs with them at all times in the same way a traditional dog handler does. The officers selected for the new role have had to meet the criteria for both firearms and dogs roles, so they have been selected especially for their attributes and skills in both areas.

Hardy Husain, Inspector of Firearms explains; "By increasing our service delivery to the force, operations as a whole can increase public confidence. By getting there faster, dealing with jobs quicker, using less resources because of multi-skilling and by being seen to pioneer these new ideas we can stay one step ahead of both the criminals and the demands of a force such as ours."