Euro whiz for Kidz
Euro whiz for Kidz
Tuesday, 03 November, 2009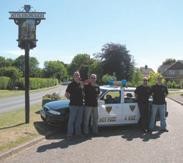 The Attleborough Hot Fuzz team


Police from Attleborough, Norfolk, have presented East Anglia's Children's Hospices (EACH), Quidenham and Chapel Road School, Attleborough with a combined cheque of £4629.60.

The hot fuzz team raised the money when they took part in a special challenge traveling from Attleborough to Barcelona, in a unique modified 'hot fuzz 4 kidz car'.The team traveled throughout Europe to get to their final destination. Commencing from Attleborough the first leg was to Lille, France and then Belgium, Luxembourg, Germany, Switzerland, Italy, South France including Monaco and finally Barcelona. The route took the officers 4
days and 7 hours to complete. The four officers who took part in the road trip included Sergeant Mark Glister, PC
Martin Fallon, PC Pete Warby and PCSO Gary Szabo. PC Les Maguire also pedaled from Holyhead in Wales to Attleborough, taking him 3 days and 2 hours.

All officers have worked in Attleborough and know the community and area very well. The team decided collectively they wanted to raise money for the chosen causes, which are close to their hearts.