Training award hat trick for Cumbria Constabulary
Training award hat trick for Cumbria Constabulary
Tuesday, 27 October, 2009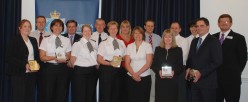 Criminals beware - Cumbria's detectives are amongst the best trained people in the UK - it's official.

The Constabulary's in-house detective training programme (ICIDP) has won the region's highest accolade for best large-employer training in the North West and has been recognised for excellence in 'growing its own detectives'.

This is the third year running that the Constabulary has won a regional award for training its officers which makes them amongst the best trained professionals in the North West. Last year they received a UK National Training Award for professionalising Investigation Programme and in 2007 they received a regional award for training new recruits. This latest award means Cumbria Constabulary has been highlighted as having one of the top 14 training courses in the country for the last three years.

Deputy Chief Constable Stuart Hyde said: "We have the best trained officers and staff in the region and this award shows we are not just meeting the standards but exceeding them. The people we serve, the people of Cumbria, can feel confident that the officers dealing with their crime, and safeguarding their neighbourhood, have the rights skills to do the job and deliver the best service for them.

"We are committed, as part of the Policing Pledge, to providing a professional and visible policing service to our communities and this award highlights the steps we are taking to make sure we continue to fulfil this promise. Cumbria now has a breed of new detectives who are better trained, more confident, and performing better in investigations, then ever before. We detected 22 per cent more crimes and increased our detection rates to make us the fourth best performing force across England and Wales. This regional accolade is down to the hard work and dedication of our Training Department and I am very proud that they have received this recognition."

The National Training Awards attract more than 1000 entries from all business sectors across the UK each year. Cumbria won this latest award despite being up against some fierce competition in the form of national companies who invest millions of pounds in training programs such as Co-Operative Financial Services and the Highways Agency.

Cumbria Constabulary's Head of Training, Peter Train, attended the regional award ceremony held by the National Training Awards at the Palace Hotel, Manchester, earlier this month to accept the award.

He said: "We are delighted to have won this regional award and to win one three times in a row shows it is not just luck. The training we give our officers and staff has been independently judged to be amongst the best in the country and we do this to ensure they provide the best possible service to the people of Cumbria."

The programme will now be judged against 13 other regional winners at the UK National Training Award Gala ceremony at London on December 10.