London Police Cadets Ship Shape for St Dunstan's Challenge
London Police Cadets Ship Shape for St Dunstan's Challenge
Wednesday, 22 April, 2009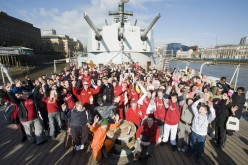 Over 200 local police cadets from across London joined forces with blind ex-Service men on HMS Belfast ready to take part in the testing St Dunstan's Cadet Challenge in March.

The 200 police cadets and three St Dunstaners embarked on the Challenge which started from the decks of the prestigious battleship and aims to help raise awareness of St Dunstan's. The half marathon Challenge took the cadets on a 13.1 mile route from Tower Bridge to Vauxhall Bridge along the banks of the River Thames. The sponsorship raised by cadets will help St Dunstan's provide lifelong support and rehabilitation to blind ex-Service men and women, enabling them to regain their independence, meet new challenges and achieve a better quality of life.

Ray Hazan, President of St Dunstan's and a St Dunstaner himself, after being blinded in 1973 by an IRA parcel bomb, said:

"The challenge that the police cadets and St Dunstaners set themselves today, involves stamina and teamwork, and helps create awareness of the invaluable, lifelong support St Dunstan's provides to blind ex-Service men and women. The Police Cadets are a credit to their Units and should be very proud of their achievements."

Jeff Moorey, Police Cadet Coordinator for Bexley Volunteer Cadet Unit said:

"The St Dunstan's Cadet Challenge provides an excellent opportunity for young cadets to give something back to the ex-Service men and women suffering from a lifelong loss or damage to their eyesight. The challenge encourages cadets to question their perceptions of blindness and helps to promote an inter-generational understanding and respect for such inspiring individuals. We were very impressed with the performance of all the cadets here today and with their excellent efforts for such a worthy cause."

The event is part of a national St Dunstan's Cadet Challenge which was established in 2004 to help create awareness of the support services St Dunstan's provides. Over 1,600 cadets from across the military and emergency services have participated in a Cadet Challenge over the last five years, with each unit completing the half marathon in a new and imaginative way. The overall winner of the Challenge will receive the 'Go the Distance' Cadet Challenge trophy at the St Dunstan's Annual Awards Presentation next March.