New unit gets forensic evidence at the double
New unit gets forensic evidence at the double
Tuesday, 13 January, 2009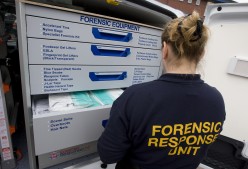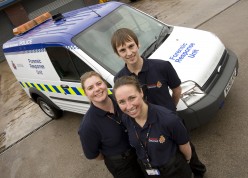 Crime Scene Investigators from the recently launched Forensic Response Unit with one of their new customised response vehicles.


Greater Manchester Police has launched a new rapid response scene of crime forensic service that will help to secure crucial evidence within the first couple of hours of a crime being reported.

The Forensic Response Unit (FRU) is a central Force resource that can be used to support policing operations and critical incidents. It consists of six Crime Scene Investigators (CSIs) and four new customised vehicles designed to carry all the equipment needed for gathering forensic evidence.

The new service accompanies officer when they are called out to a crime to secure evidence that could be crucial to bringing an offender to justice. They can provide round-the-clock support and be called on by local police to patrol with officers in crime hotspots and at times when offences are being committed.

The FRU are currently supporting the Force's Operation Guardian that is using a wide range of intelligence gathering, enforcement operations and crime reduction advice to tackle burglary.

Nigel Kelly who manages the FRU said: "Time is a critical factor when gathering sound forensic evidence that will stand up in court and lead to an offender being convicted.

"This new rapid response unit supplements the work of divisionally based scene of crime officers and helps us capture evidence in the "golden hour" immediately following a crime report. It is proving to be an excellent policing resource in our fight against criminal activity and towards bringing offenders to justice."