Chief goes on patrol
Chief goes on patrol
Tuesday, 02 December, 2008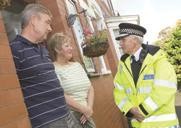 Greater Manchester's Police Chief took to the streets recently in a bid to warn people of a predicted rise in burglaries.

In the past month alone there have been 297 more burglaries across Greater Manchester compared to last year. This figure is expected to rise further with the nights drawing in, providing more opportunities for burglars. Police also anticipate that the Christmas credit crunch and impending recession will further fuel this situation.

Chief Constable Peter Fahy patrolled Cockbrook in Tameside. This area is typical to many in the region, as it is easy pickings for burglars due to residents not securing their homes. In the last three months, the community has been hit by 21 burglaries.

The Chief Constable said, "This is a real concern for us. It is our top priority and we are committing extra resources as part of Operation Guardian to combat this recent rise.

"Officers are already spending a considerable amount of time on the streets night and day literally checking people's windows and doors. We have been met with some disgruntled residents, but we feel it is better to be safe than sorry. No one wants to wake up in the morning to an empty house."