Flood heroes honoured
Flood heroes honoured
Wednesday, 01 October, 2008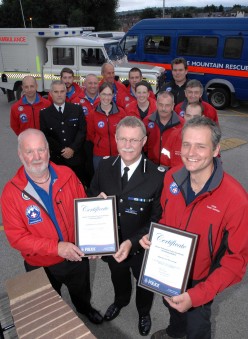 ACC Andy Holt presents commendations to Mike France, left, of Woodhead mountain rescue and Ian Bunting, from the Edale team, for their crews' help during last summer's floods. Also pictured with the volunteers is liaison officer, Insp Mihajlo Milinkovic


Vital support from mountain rescue teams during last summer's South Yorkshire floods has been officially recognised by the county's police chiefs.

Volunteers from Woodhead and Edale swapped the highs of the Peak District for low land in Sheffield and Rotherham when they were called into action in June 2007. They worked through the night helping to rescue people from care homes, businesses and houses as water levels rose and pressure mounted on emergency services. And after all that, some even got changed and went on to their day jobs.
Barnsley-based Inspector Mihajlo Milinkovic liaises with both teams, which are part of the Peak District Mountain Rescue Organisation. He explained that members of Woodhead mountain rescue team were called out around tea-time that Monday due to ever-growing requests for help and the need for search experts and four-wheel-drive vehicles. A short time later Edale volunteers were also called into action.

During the next ten hours, the mountain rescue teams helped evacuate residents at Deepcar, Sheffield, and in the nearby Winn Gardens area of Middlewood where up to 200 people were trapped in their own homes due to eight-feet-deep flood water.
Meanwhile in Rotherham, they helped 42 residents at a care home to safety in a six-hour operation that also involved firefighters and a Sea King helicopter.

Continued Insp Milinkovic: "One resident, who had just had hip surgery, had water lapping round the bed. The mountain rescue teams regularly work with helicopters and have direct communication with them, so they took control of the situation and landed the Sea King which airlifted people to hospital and other places of safety."

The good work continued in Sheffield as the rescuers helped trapped motorists in the Penistone Road area, workers in the Atlas area of the city and people stuck at the Wicker, including a 70-year-old man trapped in a building on Bridge Street. The teams were then put on stand-by due to fears that Ulley reservoir might breach its banks.

They were finally stood down at around 5am on Tuesday, June 26, last year. Said Insp Milinkovic: "These volunteers then returned to their own homes and in some cases, cleaned themselves up and went back to their day jobs. Their assistance to our force during that period was first class and they cannot be praised enough for that dedication."

SYP Assistant Chief Constable Andy Holt presented commendations to the team leaders and commented, "It's been said that a volunteer is twice a citizen and we certainly recognise and appreciate the help given to us by the mountain rescue teams during these exceptional circumstances.

"The emergency services were very hard pressed to answer all the demands for assistance at that time and we relied on a number of organisations to provide specialist support in managing this incident."

Mike France, of the Woodhead mountain rescue team, said, "This is a great honour and we are very proud to receive these commendations. We are here to support the police and other emergency services and we were pleased to be able to take some of the pressure off them during those critical hours."

He added, "We have since done some new risk assessments and training and, within the region, we now have a specialist water team who can give advice on how to tackle certain situations."