Servoca Sponsored Boat Race raises £20,000
Servoca Sponsored Boat Race raises £20,000
Friday, 01 August, 2008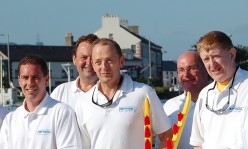 From left to right - Miles Davis, Divisional Managing Director Servoca PLC, Gary Stewart, Regional Account Manager Servoca PLC, Sir Hugh Orde, Chief Constable PSNI, Paul Leighton, Deputy Chief Constable PSNI, Duncan McCausland Assistant Chief Constable PS
Police Recruitment, Managed Services and Training specialists Servoca where proud to sponsor the Police Service of Northern Ireland (PSNI) Dragon Boat at the recent Dragon Boat Challenge as part of the 999 Charity Partnership in aid of the Northern Ireland Cancer Fund for Children.

In the beautiful setting of Carrickfergus Harbour, Belfast in glorious weather Sir Hugh Orde, Chief Constable of PSNI, Paul Leighton deputy Chief Constable and Assistant Chief Constable Duncan McCausland accompanied by other members of the PSNI, the Historical Enquiries Team and Servoca staff were one of 10 teams racing on the day.

The Harbour car park was full of fun attractions making the day a magnificent family event. Special atrractions on display included the PSNI helicopter, water Cannon, NI Fire and Rescue vehicles and Ambulance and HM Coastguard logistics.

The PSNI College team of students and staff went on to with the day in superb rowing style, proving that youth, fitness and dogged determination are a winning formula. Awards to the winning team and runners up were made by the Chief Constable, Sir Hugh Orde and Deputy Chief Constable Paul Leighton.

Commenting on the day, Sir Hugh said, "this was a great event for a great charity, I am most grateful to Servoca for supporting our boat and 3rd place was quite respectable bearing in mind our average age!"

Miles Davis, Divisional Managing Director of Servoca Plc said "Servoca are proud to be supporting the PSNI both operationally as well as in such charitable events where the activities involve the community and support such worthwhile causes. The team performed fantastically and everyone enjoyed the day".

The weekend went on to raise in excess of £20,000 for the Northern Ireland Cancer Fund for Children and is one of a series of events that will be held in support of the charity.