Police Beacon dedicated in Arboretum
Police Beacon dedicated in Arboretum
Wednesday, 30 July, 2008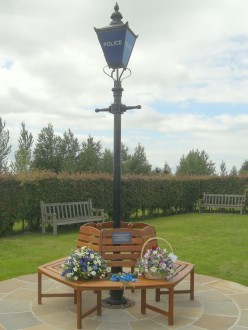 Police Minister Tony McNulty joined fellow police officers and their families at the dedication of a special police monument at the National Memorial Arboretum by Police Credit Union.

The Police Memorial Garden at the Arboretum, close to the avenue of horse chestnut trees that represent each Police Force in the UK, will provide a quiet area of reflection for everyone in the police family.

The service was attended by Sylvia Rayner, the mother of Mandy Rayner. the first female police officer to be killed in the line of duty on mainland UK. Her tragic death in 1982 also made her the youngest police officer to be killed on duty. A blue lamppost that has stood outside Hitchin Police Station in her memory has been moved to the garden with permission of her family, as a permanent, national beacon for families, friends and fellow police officers and staff from across the UK.

Commissioned by the Police Credit Union, a special marble and granite stone, a circular wooden bench and the lamppost will serve as a memorial to all police officers who have lost their lives in the service of others.

Police CU's Chief Executive Peter Evans said: "This memorial will be a touching and meaningful reminder to all of the ultimate sacrifice many police officers and their families have paid in the line of duty.

"It was a very special occasion and particularly touching. We were honoured to welcome Sylvia Rayner to the service and delighted that Christine Fulton, the National President of Care for Police Survivors and Tony McNulty were able to attend the dedication."