Essex Police Media & PR work honoured
Essex Police Media & PR work honoured
Monday, 28 July, 2008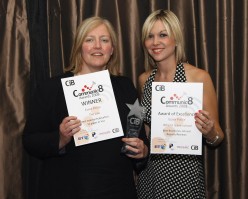 The Law editor Heather Turner, left, and graphic designer Pru Kingham with their CiB awards

The Essex Police Media & PR department has won a regional award from the British Association of Communicators in Business (CiB).

The force newspaper, The Law, edited by Heather Turner, came top in the Internal Publications category for those with 12 pages or fewer. Judges particularly noted its news content.

The When I Leave School information and recruitment leaflet - developed by the Marketing Communications team from an idea by PCSO Kay Fleming, of Rochford - was runner-up in the Brochures, Annual Reports and Reviews category.

Acting head of Media and PR Tina Starling said, "The awards reflect the hard work that goes on in this department behind the scenes on a daily basis and it is nice to be recognised in this way by our peers."

The Law is the internal newspaper for all Essex Police employees - from the chief constable down - special constables and members of the extended police family - retired police officers and police staff, plus external agencies, councillors and the media. It has been published for 39 years.

The CiB is the UK's leading professional body for in-house, freelance and agency staff involved in internal and corporate communications.