Force signs up to Biodiversity plan
Force signs up to Biodiversity plan
Tuesday, 15 July, 2008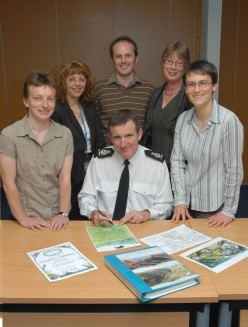 Chief Constable Mick Creedon & members of the new Biodiversity partnership

Derbyshire Constabulary has signed up to two partnerships to maintain, manage and enhance bio-diversity.

Chief Constable Mick Creedon this week signed up to the Lowland Derbyshire Biodiversity Partnership and the Peak District Biodiversity Partnership.

The new partnerships mean the force will be doing more to raise awareness around wildlife crime, improve the way biodiversity is managed on its estate and generally look at ways of improving its environmental performance.

Sheila Sismey, Derbyshire Constabulary's Facilities Manager, said: "We are pleased to be working closely with these two partnerships.

"The force aims to continually increase its biodiversity management of the police estate to develop and improve our environmental performance as a whole.

"This month we've already relaxed field hedge cutting at force HQ across 3,000 linear metres of hedgerow to help increase wildlife in these areas."

Dan Abraham, chair of the Lowland BAP, said: "Natural England welcomes this new partnership with Derbyshire Constabulary, which will be of significant benefit to biodiversity in the area.

"We know a lot of good work is already ongoing in terms of wildlife crime such as damage to bat roosts and nesting birds of prey.

"It's also good to see the force is now committed to managing biodiversity on its own grounds, such as its headquarters at Butterley."

There are more than 100 biodiversity partnerships in the UK with all work carried out contributing towards the achievement of the UK Biodiversity Action Plan.