On Ya Bike!!
On Ya Bike!!
Tuesday, 29 April, 2008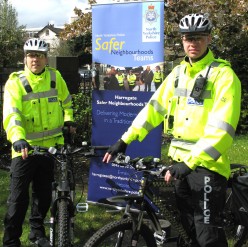 Nine specially adapted mountain bikes have been donated to North Yorkshire Police to boost patrols in the Harrogate, Richmondshire and Craven districts.

Orange Mountain Bikes of Halifax kindly sourced the "G2" bikes and Hawes-based Kudu Bikes Ltd, a registered Orange test centre, prepared and equipped
them ready for use.

Sponsorship has come from the Community Safety Partnerships in both Richmondshire and Craven, the Harrogate and District Neighbourhood Watch Association and the Harrogate-based Marks and Spencer store.

Chief Inspector Barry Smith, District Commander of the Western Area, said: "These bikes will really help officers to extend patrols whilst
still remaining highly visible and accessible to the public, which is exactly what our communities are demanding from their police service.

"Safer Neighbourhoods policing is all about being at the heart of the community and working in partnership with other agencies and organisations.

This arrangement is a perfect example of this in action and I personally thank everybody involved in the initiative. I am
confident we will all reap the benefits."

Adam Proctor, from Orange Mountain Bikes, said: "It's really good being able to support North Yorkshire Police. Martin Lewin at Kudu Bikes has made an excellent job of converting the G2 Mountain bikes for the officers to use."

Martin Lewin, from Kudu Bikes Ltd, Hawes, said: "We're keen to keep strong links to the local police so it was great to be given the opportunity to support North Yorkshire Police in this way. Orange Mountain Bikes were very happy to assist, and between us I am sure we have supplied the police with some quality kit to help them support the local community."

Clare Cooke, from Harrogate Marks and Spencer, said: "We are delighted to be able to support North Yorkshire Police in this initiative. The new cycle patrols will be both flexible and highly-visible, helping to reassure local residents."

Liz Smith, Chair of the Richmondshire Community Safety Partnership, said: "We are always keen to support initiatives whose aim is to re-assure the
public. In a rural, low crime area, these bikes will allow officers to be visible and immediately accessible to their community. We wish the
project every success."

Stacey Mitchell, Partnership Co-ordinator from the Safer Craven Community Partnership, said: "The bikes are a very community-based resource allowing the police to access public areas as well as the harder to reach outskirts that are not so regularly used and patrolled. They will be very visible to the public and offer reassurance on the streets of Craven."

Keith Roberts, Treasurer of the Harrogate and District Neighbourhood Watch Association, said: "We are more than happy to sponsor one of the police mountain bikes as we understand just how useful they are to local officers who serve the more out-of-the-way communities in our district."

Co-ordinated by Inspector Robert Thorpe, the cycle initiative is part of the first phase of increasing the number of cycle-trained officers operating in the Western Area from 26 to 52. To help achieve this aim, four police officers have recently completed a course to allow them to train colleagues across the area for effective cycle patrols.