Job's A Good'un This Half-Term
Job's A Good'un This Half-Term
Thursday, 07 February, 2008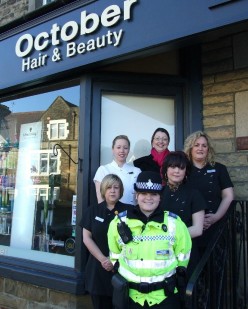 A PCSO from Harrogate Safer Neighbourhood Team has devised a mini work experience scheme for young people during February half-term.

With the help of local businesses and financial support from Harrogate District Safer Communities Partnership, PCSO Kelly Pressley has developed a series of half-day work sessions to give young people a taste of what could possibly be a future career. The young people taking part will be aged 12-17.

The businesses are all based in the Killinghall and New Park area of Harrogate, which is also where the young people live.

PSCO Pressley said: "The scheme came about as a result of my frequent contact with the same groups of young people involved in anti-social behaviour. Many of them don't realise the affect a police record can have on their future employment and many are not even thinking about future employment full stop!

"To get them started on a career path and to make them realise the opportunities that are available in their local communities, I have arranged for each young person to complete a number of half-day sessions.

Some will also have to comply with an Acceptable Behaviour Contract. On completion of the course, their commitment will be acknowledged with a reward tailored to their interests.

"They will also be able to use the businesses as future career references.

"I have received support for the scheme from local businesses and Harrogate District Safer Communities Partnership, and would like to thank everyone involved for their help in getting the project off the ground."

Cllr Les Ellington, Chairman of Harrogate District Safer Communities said: "We are happy to give our full support to initiatives such as this. The scheme is an excellent way to engage with young people and help them realise what is available to them in their local communities. Anything which can give them inspiration and motivation for their future is to be welcomed."