S.W.I.P Conference 25 - 27th February 2008 - You can shape the future of policing for women
S.W.I.P Conference 25 - 27th February 2008 - You can shape the future of policing for women
Wednesday, 21 November, 2007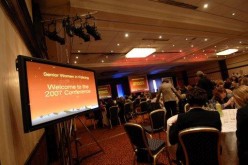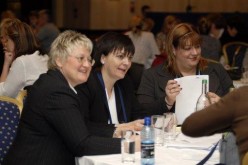 OVER 300 influential female police officers and staff will be discussing issues affecting women in the police service at the next Senior Women In Policing (SWIP) conference.

Places are still available at the conference, which is open to all women in the police service with some managerial responsibility, who feel they could benefit from the networking and professional development the event provides.

The SWIP conference will be held over three days next February at Birmingham's Hilton Metropole hotel. The event theme is 'People first Policing' with speakers including Home Secretary Jacqui Smith and Chief Constable and President of the British Association for Women in Policing (BAWP) Julie Spence.

About 400 delegates attended last year's SWIP conference 'New dawns, New horizons', taking part in workshops and hearing presentations on enhancing and developing the role of women in the police service. Outcomes of the conference included developing action plans around career development, productivity, empowerment and accountability as well as examining cultural change and how police officers and staff can better understand and meet the needs of diverse and changing communities.

Chief Constable Julie Spence is encouraging women to attend the conference if they can. She said: "The SWIP conference is an extremely worthwhile professional development event for female officers and staff.

"This year's programme has a citizen focus feel with presentations on cultural issues, marketing and people first policing. The conference also provides delegates with opportunities for networking and learning from and sharing best practice.

"Last year's event gave us some fantastic ideas for the future and showed how passionate women in the police service are about what they do and how they can make a difference. I expect this year's conference to build on that passion and energy, and focus on how we can improve policing for women working in the service, as well as those living in the communities we serve. I would encourage women from any area of policing to attend, learn from others' experience and share your ideas on how we can take the police service forward."

Carolyn Williamson, who is organising the SWIP conference, said: "Places are booking up very quickly as the programme is packed with first class speakers and presentations. Last year's SWIP conference proved that this event really does provide a fantastic opportunity for career development and professional networking in a relaxed environment and we expect this year to be even better."

To book a place at the SWIP conference, and to view full details of the programme and venue, log onto www.swip-online.org

To look at the outcomes and actions undertaken as a result of last year's conference log onto www.bawp.org and click on 'What's New'.