Quiet nights for students
Quiet nights for students
Friday, 09 November, 2007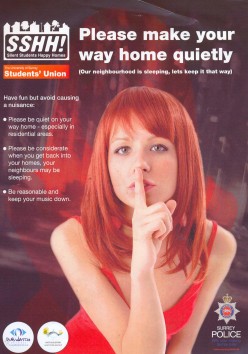 Surrey Police is supporting the University of Surrey's 2007 SSHH! campaign.
SSHH! stands for Silent Students Happy Homes. The campaign message has been promoted by the use of t-shirts and posters.
Funding for the campaign has been secured through Surrey Police and Safer Guildford Partnership.
The posters will be displayed on campus and in local stores, kebab shops and licensed premises en route between the university and the town centre. The t-shirts will be worn by bar staff both on campus and at Guildford Pubwatch venues in the town.
Guildford Neighbourhood Inspector Julie Murray commented, "This campaign is a good example of partnership work in practice involving the University of Surrey's Students Union, Surrey Police, Safer Guildford Partnership and Guildford Pubwatch.
"We are appealing to high-spirited party-goers to be considerate to local residents who are sleeping when they are returning home in the early hours. We do not wish to spoil anyone's fun but the local community has a right to peace and quiet and we will tackle the minority of people who insist on making it unpleasant for everyone else."