Your current location:
Tracerlite Duty Boots Ready to Hit the Streets.
Tracerlite Duty Boots Ready to Hit the Streets.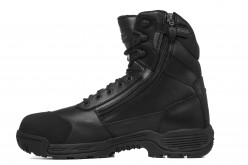 Tracerlite boots have earned an enviable reputation in Australia and New Zealand for being able to handle the toughest environments that they have to offer. The range of boots have seen action in the Southern Alps, deserts, sub tropical rain forests....and just as importantly the streets of major cities.It's this pedigree of tough, resilient, built to last quality, combined with the essential comfort that is required for any set of essential working footwear, that have made Tracerlite so popular among EMS, police, prisons and security professionals.
All Tracerlite Safety Boots are CEN ISO 20345:2011 tested and certified and above the minimum requirement of self certification for CE. Tracerlite have also achieved CEN ISO 20347:2012 Certification for Occupational Footwear for their non-safety toe boots.
While the UK and Europe are as far away from Australia as you can get, the demands for quality footwear for the serious professional are no different. Tracerlite is sure to make just as much of an impact on the day to day lives of professionals everywhere from the streets of London to the Highlands of Scotland as well as on every type of terrain that Europe can throw at them.Made to the lightest possible weight while still featuring an array of features to make them the envy of every competing boot on the market;


Full grain leather uppers


Cambrelle moisture wicking liners


Fully gusseted tongue


Water resistant or water proof


300 degree thermal slip resistant carbon outsole


Compression molded EVA midsole with composite shank


Anti slip zone with siping


Multi directional toe traction


Heel anchor zone


Ladder grip zone and fully gusseted side zips


Safety toe boots are airport friendly and are designed for comfort when kneeling


Tracerlite boots were launched at the Home Office Security and Policing Exhibition at Farnborough 11-13 March, and can be seen at exhibitions across the country throughout the rest of the year.
Tracerlite Boots are available now through their UK partners: SP Services (UK) Ltd – www.spservices.co.uk/tracerlite - 01952 288999Niton Equipment Ltd – www.niton999.co.uk - 01293 549858