Your current location:
Surveillance recorder scoops Queen's award
Surveillance recorder scoops Queen's award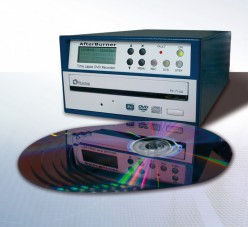 A ground-breaking digital video recorder used by the majority of UK forces to carry out video surveillance operations has won a prestigious award for innovation.

The AfterBurner is the first ever time-lapse DVD recorder available for law enforcement use. Ovation Systems, which designs and manufacturers the recorder, is one of only 43 companies to be presented with a Queen's Enterprise Award in the innovation category this year.

The AfterBurner is unique in that it operates in real-time or time-lapse, allowing 24 hours or more of video to be burnt to a single disk that is viewable on any standard DVD player. When deployed, it records to its internal hard disk providing at least 12 days of unattended recording. The image quality is far superior to the old VCR technology.
It allows police to continue to use the same evidence auditing procedures as a standard VCR but with the advantages of digital quality and ease of handling. Products from the CCTV market did not meet this requirement.

It was developed following discussions the former National Crime Squad, one of Ovation's major customers, now the Serious and Organised Crime Agency (SOCA) and so meets the digital imaging guidelines laid down by the Home Office Scientific Development Branch (HOSDB).

Since the AfterBurner was introduced three years ago, many thousands of units have been sold. In the UK, 44 out of the 48 UK police forces and law enforcement agencies, along with many other security agencies, are deploying AfterBurner. Over 30 per cent have been produced for export, with customers in Europe, Far East, Australia and the US.
David Millar, Sales and Marketing Director at Ovation Systems said, "The AfterBurner was developed to help support surveillance activity and gather evidence that will stand up to scrutiny in court.

"It is being used at a time when terrorist and other under cover investigations have become increasingly complex and so officers need to have the most cutting-edge technology available to underpin their efforts.
"Winning a Queen's Award is for us a reflection of the fact we are helping forces and other law enforcers achieve that aim."