Your current location:
New Sports GPS is making a giant leap forward in navigation
New Sports GPS is making a giant leap forward in navigation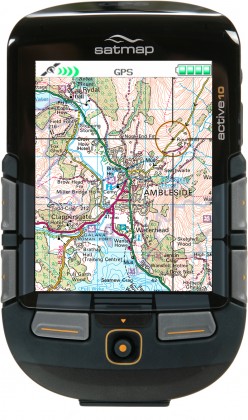 British company, Satmap Systems, has recently launched the Active 10 sports GPS which is unique in that it is the only GPS to offer Ordnance Survey Explorer and Landranger mapping for the whole of the UK on a shockproof, waterproof, handheld GPS unit.

The Satmap Active 10 has been proving its effectiveness in operational activities with a number of police forces and mountain rescue teams. It has risen to the challenge in demanding and arduous circumstances proving to be one of the most reliable navigation systems on the market today.

The unit was initially launched for the walking, climbing, and mountain biking markets primarily. It quickly became apparent that having a rugged GPS with highly detailed mapping was in great demand by a whole host of other users including the police, armed forces and rescue services. The Active 10 is currently approved by SARDA (the Search & rescue Dogs Association) as well as 12 individual Mountain Rescue teams. Aside from the more obvious uses on the ground the unit has even successfully been used by helicopter and aircraft pilots in preference to on board navigation devices.

The Active 10 shows users exactly where they are, gives a trail showing where they've been, and can also be loaded with a route showing where to go. The maps are loaded on SD Cards which means there is no PC required and it is ready to use straight out the box.

Whilst being one of the most feature rich GPS' on the market it is also one of the easiest to use. A number of independent reviewers have alluded to this fact such as Graham Thompson from Trail magazine who said: "Six buttons and a joystick make this the most user-friendly GPS ever."

Maps are displayed on a large 3.5 inches colour LCD screen designed for use in bright sunlight or darkness, and uniquely, the on-board electronic compass can be interfaced with the maps, giving a direction indicator and an instant map orientation. The GPS gives accuracies of 3 to 5 metres, and even works under the tree canopy.

The Active 10 also logs statistics such as route elevation, time, distance and speed. Users can add Points of Interests (POIs) to mark areas of interest on their routes. Satmap offers over 200 maps in its standard UK map catalogue and is also the first company to offer a custom mapping service for a handheld GPS where users can buy the exact area of mapping they need without paying for any unwanted areas. The unit is also able to display aerial photography.

Having a GPS is sometimes negatively viewed by some 'paper and compass' traditionalists but using a paper map in the wind, rain and dark would challenge even the most experienced navigators. There is also a safety aspect to having a GPS with real mapping and customers regularly call Satmap to share their experiences. The company received five separate calls one Monday morning after a weekend of unexpected heavy snowfall. The callers all had one thing in common, they had been caught out by an unexpected snowfall in the Scottish mountains and visibility was only a few metres. They were convinced they wouldn't have made the descent successfully without their Active 10s guiding them.

The unit's rugged credentials have been really tested since its launch. One user dropped it in a peat bog, lost it for a time and then fished it out and carried on using it. Possibly the most dramatic story reported was by an off-road biker who was testing a set of 'unbreakable' handlebars and rolled his bike breaking his neck and the handlebars but the Active 10 survived, as did the rider thankfully. He was able to use the Active 10 to report his location and get help.

There are a number of GPS units on the market today mainly targeted at in-car navigation but the big difference with Satmap is that it offers real mapping. Mapping which shows field boundaries, footpaths, bridal ways, woodland types and even the nearest public houses. Satmap positions itself as a mapping company first and has begun its international roll-out by partnering with the best mapping companies in each country. European maps will be launched in the UK from Spring onwards next year.

Satmap Systems is offering 20% off all products from Satmap Systems Ltd to Police, Fire & Rescue services personnel quoting reference SM-PLM-08-01.

For more information about the Active 10 go to www.satmap.com or call 0845 873 0101.