Your current location:
New car dedicated to catching criminals
New car dedicated to catching criminals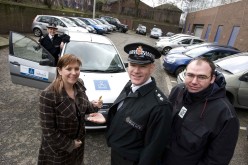 A brand new, unliveried police vehicle, dedicated to targeting local offenders has been launched in north Manchester.

Adactus Housing's Varley Street office in Miles Platting has sponsored the car that will be used by north Manchester's operational policing unit.

The car will not be used as an additional police vehicle, instead it will be dedicated to targeting the people who repeatedly commit crimes in the Miles Platting and surrounding areas of north Manchester.

Inspector Steve McFarlane said, "This car will become a fantastic tool for police officers patrolling across the area and will enable us to focus our resources on taking more criminals off the streets.

The sponsorship from Adactus is an excellent example of the successful working partnerships we have with the housing associations in the area."

Natalie Tordoff, Head of Housing and Regeneration, Miles Platting at Adactus said, "Working with local residents in the area, we know that crime and anti-social behaviour can have a serious impact on the community.

Helping to improve safety and reduce problems with crime is a key part of creating secure happy neighbourhoods. The car is an important way for us to support the local community in Miles Platting."