Your current location:
Information at our fingertips
Information at our fingertips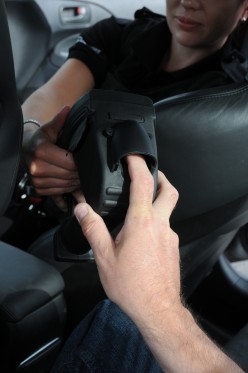 Police officers in South Yorkshire are now able to check an individuals identity at the roadside within two minutes, following the introduction of a new mobile fingerprinting device.

The Lantern fingerprint devices are available throughout South Yorkshire and allows frontline police officers to scan a person's fingerprints while out on patrol and check them against the national fingerprint database for matches. This will enable faster identification of those who are known to the police and enable officers to spend more time in the community. For example, rather than having to return to the station to arrest and detain an individual to establish their identity, which can take up to several hours, it will now take a couple of minutes using the device.

Sergeant Simon Davies, programme manager at South Yorkshire Police said, "The new devices will save the public's time, police officer's time and help increase the number of offenders brought to justice."

The Lantern devices have been supplied to South Yorkshire Police by the National Police Improvement Agency (NPIA.) The NPIA have previously ran a national pilot of the devices to other forces, including the Met and West Yorkshire and the benefits these officers found were:

• An average saving of at least 30 minutes per case where used

• Reducing the number of people taken back to the police station to establish their identity

• Identification of unconscious or fatal victims at a crime or accident scene

• Improved levels of public confidence.

The only downside to the Lantern device is that it's not effective for foot patrol due to its bulkiness in size. However, Lantern is just an interim solution until South Yorkshire Police develops the new MobileID service at the end of this year. This will provide smaller fingerprint scanning devices that will link to the new Blackberry's, which frontline officers are currently being issued with.