Your current location:
DuPont extends protection properties of Kevlar XP
DuPont extends protection properties of Kevlar XP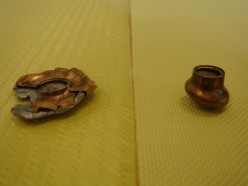 Extending protection for our protectors
Kevlar® XP™ reaches an additional level of innovation

DuPont presented an extension to its Kevlar® XP™ product range at MiliPol, the worldwide exhibition of internal State security held in November.

One year after the successful launch of its Kevlar® XP™ patented technology, DuPont has introduced an extension of its Kevlar® XP™ product range. This new innovation, based on the Kevlar® XP™ technology platform, offers protective solutions for specific end-user requirements in addition to the USA NIJ (National Institute of Justice) standards, such as the German Schutz Klasse and the UK HOSDB standard. This extension compliments the existing DuPont Kevlar® XP™ S102.

The new Kevlar® XP™ addition has added design flexibility to body armour and builds on the original Kevlar® XP™ S102 advantages of comfort and light weight.

"The original Kevlar® XP™S102 was specifically developed to NIJ specifications. Based upon feedback from our European customers and end-users it was clear that we needed to evolve the Kevlar® XP™ technology platform to arrive at a product tailored to provide protection against prevalent threats in Europe, Middle East and Africa," says Jeroen B. Jacobs, business manager for DuPont's life protection business in EMEA. "Introducing a complete product extension one year after the launch of the first Kevlar® XP™ offering shows the strength and agility of our organisation. We will continue to act swiftly to carry on Protecting our Protectors."

Kevlar® XP™ is highly successful in the global market place. Forces ranging from the Taiwanese and Argentinean police to the French and Italian military, as well as various North American agencies, are already protected by Kevlar® XP™. "Kevlar® XP™ not only provides excellent bullet resistant solutions, it allows us to produce body armour in a much shorter period of time," says Achim Baumann, Managing Director of BSST GmbH, Germany.

DuPont™ Kevlar® is an organic fibre offering an excellent combination of properties: it is lightweight, sturdy and fireproof, allowing protection and thermal resistance. Kevlar® is five times stronger than steel at equal weight.

The unique architecture of Kevlar® XP™ features a patented woven fabric technology that allows for improved bullet stopping power, while maintaining comfort.