Your current location:
Drug Detection and Counter Terrorism Equipment
Drug Detection and Counter Terrorism Equipment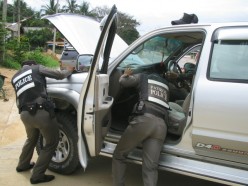 It is a commonly held view that drugs and terrorism are seen as major threats to our civilised society. KeTech Detection is displaying their latest products including their revolutionary Drugscanner at the International Policing Exhibition in Liverpool.

The products on show include the revolutionary DrugScanner, which fulfils the drug detection roles in the field, as well as the testing of individuals for personal drug abuse (e.g. in custody suites and roadside drug testing).

Rather than using a urine sample for analysis a sample is taken by gently rubbing a non-abrasive swab on the individual's skin or tongue, or over surfaces to obtain evidence where trace drug contamination is suspected. DrugScanner uses a similar technology to a pregnancy test kit with similar comparable benefits.

The DrugScanner has been proven; it is deployed world wide and widely used by Customs, Police, Prisons, Military and in the workplace. It is also used for custody testing and in the rehabilitation of drug users. To support the identification of drug users a number of clinical trials including an NHS clinical trial have been successfully conducted.

Also DrugScanner is one of three remaining contestants for testing of drivers under the influence of drugs in Europe. These tests are conducted under the name of ESTHER and are initiated by the European Police to identify the most appropriate technique for testing drivers suspected of driving under the influence of narcotics.

After the initial testing (the ROSITA project), only 3 of the original 10 systems remain for final testing by the traffic police in Germany, Holland, Finland, Spain, Ireland and Belgium.

These tests will ultimately lead to recommendations from the European Police to its member countries for suitable methods and equipment to detect drug insobriety while driving.

This is a highly appropriate application for this particular technology. What gives KeTech an important edge over the competition is the rapid response time of 60 seconds to analyse for the most important substances where the competition typically requires five to ten minutes. The fact that Ketech are considerably less expensive per test is another key advantage.

In this post 9/11 world and in the face of serious organised crime, constant vigilance is vital for continued public safety. In order to meet the needs of enhanced surveillance KeTech has teamed up with ISS, the world-leading developer of Infra Red systems to offer a class-leading economical system that couples high resolution with ease of use and overcome the problems associated with cooled systems whilst offering similar performance.

These state-of-the-art thermal imaging and image intensifier sensors significantly increase covert surveillance capabilities.

One of Ketech's most popular systems is the TiV family of products, which offer true IR (not image intensification) giving enhanced day and night vision capability without the noise, heavy power consumption and unreliability of cooled units. TiV, which weighs less than 1.7Kg, is unaffected by bright lights (so is suitable for urban or rural use) and provides accurate vision through smoke, mist etc.

These UK manufactured systems are used worldwide to observe criminals and antisocial providing a significant enhancement to operational capabilities.

To find out more about DrugScanner, TiV and other products designed to help Police Forces, please contact:

KeTech Detection on 0115 900 5611 or visit them at the International Policing Exhibition.