Your current location:
Affordable and safe searching gloves launched
Affordable and safe searching gloves launched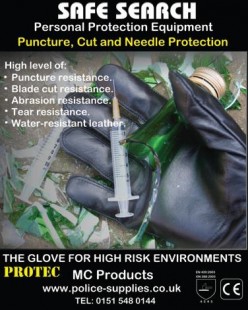 "To put it in simple terms, the Protec Safe Search Glove is the newest, safest, most appropriate and cost effective PPE duty glove available on the market today." This was a bold and brave statement from a company that prides itself on customer confidence and satisfaction.

Following testing results issued by SATRA, the world's leading research and technology authority for consumer products, it was easy to see why the company is so confident in its latest development.

Terry Cranny, Sales Manager for Protec explained, "We became increasingly aware of a number of Police services enquiring with regards PPE gloves but found sales to be slow." Terry added,"Our follow up enquiries revealed that the available options to Police staff were limited in their protective qualities and very expensive".

Concerned by the response and with the realisation that Officers were going unprotected, Protec felt they had no other option than to set about developing a better and more affordable glove.

Currently the market offers 2 levels of protection, commonly known as 'slash resistant' and 'puncture resistant or needle stick protection'. Until the launch of the Safe Search Glove the
only way to protect against both risk elements was carrying 2 different types of glove around. Good quality slash resistant gloves are available with prices ranging from £13-£30. Puncture resistant gloves typically cost between £55-£130. That's a whopping cost in the region of £68-£160 and with the added inconvenience of having to carry two sets of gloves.

The Protec Safe Search Glove not only means only one set of gloves is required but also saves money. The search glove was developed with a number of key safety factors such as comfort, feel and grip, abrasive qualities and is both cut and puncture resistant.

Commenting on the company's new glove Terry cranny said, "We wanted to produce gloves that eradicated the need for two pairs. A smart uniform glove that could be worn for general patrol whilst affording Officers total protection at all times."

After being submitted to SATRA for British Standard testing in May 2009 the gloves exceeded all expectations, returning results that show it is one of the best, if not the most appropriate
on the market today.

The certification shows the gloves achieved maximum levels for abrasion resistance; tear resistance and blade cut resistance. Allowances had to be made for puncture resistance to allow the glove to be workable and dexterous. Mr Cranny continued, "I feel that its important
Officers realise why we didn't opt for maximum puncture resistance, they simply wouldn't have been able to grip or feel with the glove. Our glove does offer a higher level of protection than the rather expensive gloves already used by Police Officers."

Protec firmly believe that the new glove offers the highest level of protection available in a 'dexterous glove', "The gloves with higher levels of protection tend to be made from chain mail and similar materials. They are simply not fit for Police purpose."

Priced at just £32.95 it provides a high-end solution, for the cost of a budget set of gloves and all wrapped up into a single product.

• For further information visit www.police-supplies.co.uk or telephone 0151 5480144.