Your current location:
Leger Battlefields Tours, Making It Easy To Bring The Past To Life
Leger Battlefields Tours, Making It Easy To Bring The Past To Life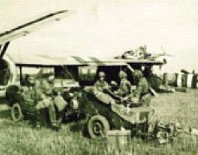 Leger Holidays, a family business and market leader in escorted battlefields tours, offers something for everyone, with tours across Europe and beyond to places where key events took place during WWI, WWII and the Falklands.

Whether you are a first timer or have a passion for history, Leger's hand picked guides make it easy for you to learn about key historical events that have shaped our lives today.

Consistently commended by our guests for their knowledge, personal perspective and going the extra mile, every tour includes a specialist tour guide. They set the scene, tell the stories behind each location and enable you to personalise your tour, answering questions and finding the memorials of relatives.

For first time visitors to the battlefields 'All Quiet on the Western Front' is the definitive introductory break. Led by a specialist Battlefield guide who brings to life the remarkable historical tales of frontline warfare, the four or five-day escorted holiday follows the course of one of the world's most infamous battles.

The break visits the renowned battlefields at Flanders, around Ypres and Passchendaele and the Battlefields of the Somme. Additional sites visited on the five-day break include Vimy Ridge, captured by the Canadians in 1917, Arras and Pozieres.

There are more than 400 local joining points to choose from and prices start at £219 for the four-day break and £269 for the five-day break. For further details visit Tour Battlesites

Prices include:
• Travel by executive coach
• Three of four nights' accommodation with continental breakfast at the three-star Hotel Cathedrale (or similar hotel)
• Two or three excursions with a specialist battlefields guide

For extra benefits you can also upgrade to Silver Service which provides extra legroom on the coach, smaller group sizes for a more personal experience and porterage in all hotels to make life that little bit easier for you. Silver Service breaks start from £259.

To book or learn more about Leger's inspirational journeys to the Battlefields, call 0845 408 5747 for a brochure, visit Tour Battlesites or pop into your local travel agent.