Your current location:
DeVere Seasonal Ownership, you've never known freedom like it.
DeVere Seasonal Ownership, you've never known freedom like it.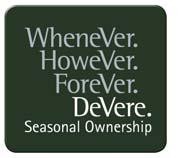 Imagine having the freedom to spend your holiday however you want, the knowledge that a place of your own will always be waiting for you, and the luxury of having five star facilities on hand whenever you require them.

That's the beauty of the DeVere Seasonal Ownership scheme and your guarantee of your own slice of opulence, courtesy of the De Vere Collection. Stay in your own luxury lodge or apartment at Cameron House, the baronial mansion on the shore of Loch Lomond voted Scotland's most stylish hotel of 2009, or pack your golf clubs, arrive at your apartment at The Carrick, also located on the shore of Loch Lomond, and tee off in the afternoon on the Championship standard Carrick Golf Course.

If your own lodge in the 1,000 acre grounds of an Edwardian mansion is more to your liking, then you'll cherish the time you spend at Slaley Hall in Northumberland. Or if a lodge in the grounds of a gorgeous lakeside hotel is how you'd like to spend your time,the 475acres of tranquil Lincolnshire countryside that is Belton Woods will be where you'll want to unwind and have fun. The only difficulty you'll have with the De Vere Seasonal Ownership scheme is in having to choose where your new home from home is going to be.

Alternatively if a week in Barbados, a Greek island cruise, or a long weekend skiing the Alps is more what you were thinking of, as part of your suite of benefits as a lodge or apartment owner with the DeVere Collection you are automatically part of the Exchange Holidays programme for three years. Providing holiday options at over 3,800 resorts worldwide, thousands of cruise holidays, whenever you want it, there are even benefits with additional travel offers including flight tickets, car rental, travel insurance and accommodation discounts worldwide. Thanks to the De Vere Seasonal Ownership scheme, that well deserved holiday has never been easier to arrange.

Seasonal ownership gives you the freedom that comes with staying in your own lodge and the security of knowing those weeks of holiday are yours every year. Yours will be a holiday in your own space in your favourite place and with facilities you know and love. Not only that, but with DeVere's Evergreen card you'll have access to any of the facilities in the De Vere Collection and be entitled to special offers and privileges across other hotels in the DeVere group.

The privileges of the DeVere Seasonal Ownership scheme include: private lodge accommodation for you and up to six friends, luxury holidays at a time that best suits you, full use of exclusive hotel spa facilities, carefully chosen interiors, a flexibly structured ownership scheme and the possibility to swap weeks with seasonal owners at other resorts.

Start enjoying the benefits of having your own DeVere lodge now and perhaps next year venture overseas, maybe a wine sampling trip in France followed the year after by a trip to the States? After all that travel, you'll be only too pleased to spend the fifth year in the unbridled comfort and luxury of your DeVere lodge.

The Seasonal Ownership scheme includes five weeks of holidays - one per year. You can choose the size of your accommodation (from one to three bedrooms are catered for). In years one and five, stay in your DeVere Resort holiday choice. In years two, three and four, stay with De Vere or choose a worldwide destination and exchange through Interval International.

De Vere Seasonal Ownership means planning your next five years holiday is stress free. Choose from over 2,500 resorts worldwide and be sure to make use of DeVere's dedicated booking service and the bonus weeks that will be available to you.

To realise the benefits of DeVere Seasonal Ownership you'll need to choose your DeVere Resort, the time of year you'd like to stay there and the size of your accommodation. Your oneoff payment of £2,995 will also include three years worldwide exchange membership.

And as we're so sure you're going to love your lodge plus the convenience of not having to worry about your holidays for the next five years, DeVere is offering a not to be missed opportunity of upgrading to full membership. Transfer to full ownership in Year 2 and you'll receive 100% discount on the purchase price paid against full payment of a fixed week, in Year 3 you'll receive 50% off the purchase price, in Year 4, 35% and in Year 5,15%. On upgrading to the full product, all Club maintenance fees will need to be paid by the owner.

With the De Vere Seasonal Ownership scheme you'll be creating a unique holiday experience to enjoy for years to come.

• For further information visit http://www.cameronlodges.com/
or call 0844 9800490.